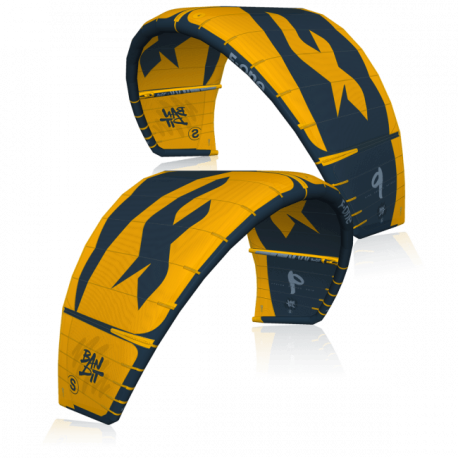  
2020 KITESURF F-ONE Bandit-S
FRANCEKITESHOP offers you the new model: 2020 KITESURF F-ONE Bandit-S. For more information clic: . DESCRIPTION.
Garanties sécurité
(à modifier dans le module "Réassurance")
Politique de livraison
(à modifier dans le module "Réassurance")
Politique retours
(à modifier dans le module "Réassurance")
...
A versatile waverideuse
The legendary Bandit comes in two versions this year and the S version was designed for Surf and Strapless practice. The wing design has been completely redesigned and this Bandit S differs 95% from its counterpart, the Bandit 2020 according to its designers. The kite construction includes Teijin Technoforce double ripstop spinnaker and 130g Dacron ripstop. In the air, we feel a soft, stable and light bar wing. However, this lightness does not affect the kite's very good feedback. Indeed, the feedback is good and we can feel where the kite is. The Bandit S also boasts good handling, with instant turns on a very small radius of curvature. In fact, the placement of the kite in the turns or in the surfs is very intuitive because it does not require anticipation. The power generated by the wing is very correct and constant, with little jerk in the gusts. On the loops, the kite turns around on itself and the power is constant and smooth: you don't take a kick. The Bandit S depower is very efficient and almost instantaneous since a small movement of the bar effectively affects the power of the kite. This depower boosts the range of use in addition to reassuring and freeing the rider in certain tricks or turns. The wing offers good lift in tacking in particular. On the jumps, it does not demerit at all, and offers a more than correct lift. Its reactivity makes it possible to send the wing quickly and to provide a good lift to jump high enough. In the descent the lift is very correct. Its ability to jump will perhaps show its limits for riders wishing to load it on big air. On the other hand, the Bandit S's drift is particularly good. Indeed, the rider does not really need to move his kite in the surf. In summary, the Bandit S turns out to be a smooth and efficient drifter with lots of depower and intuitive handling. It will be able to adapt to a Freeride practice thanks to its versatility.
drifting, super efficient depower, versatility, intuitive handling, smooth power
No customer reviews for the moment.