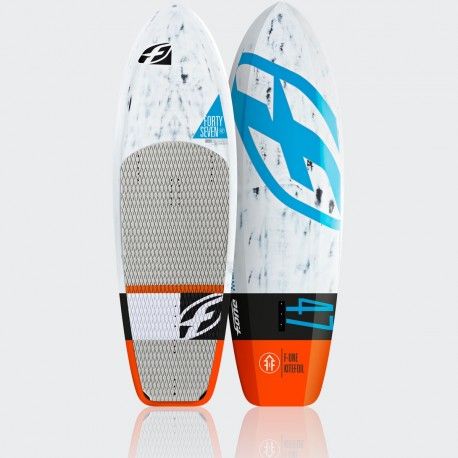  
2018 CARBONE FOILBOARD F-ONE KITESURF HYDROFOIL BOARD
FRANCEKITESHOP offers you the new model: 2018 CARBONE FOILBOARD F-ONE KITESURF HYDROFOIL BOARD. For more information clic: . DESCRIPTION.
Garanties sécurité
(à modifier dans le module "Réassurance")
Politique de livraison
(à modifier dans le module "Réassurance")
Politique retours
(à modifier dans le module "Réassurance")
Compact in their proportions to minimize wind resistance, the F-ONE foilboards have a concave bridge that maximizes comfort and control. The simple concave hull with lateral V is particularly worked and combined with a pronounced spatula to soften the fallout. The rails are high and inverted to control the board in the water and reduce nuisance during close-up "touching" in the notched position.
Two carbon foilboards are available: the 49 and the 47.
The 49 is for those who master their foil well and want to extract more performance from it. With its moderate width, this board allows you to take a closer angle upwind and to gain weight and catch in the wind. Available in carbon construction for a featherweight and increased reactivity.
The F-ONE team's competition plank, the 47 is the ultimate weapon in racing with its narrow outline and its lowered deck giving more control. It is available in carbon construction for performance worthy of the Goldcup podiums.
Equipped with strap inserts with numerous adjustment possibilities and the fully conical DEEP KF-BOX housing, they offer compatibility with the majority of foils on the market.
Features of the 2018 Carbon Series Foilboards
EQUIPMENT
Full pads
DEEP K.F BOX
F-ONE surf straps (optional)
No customer reviews for the moment.